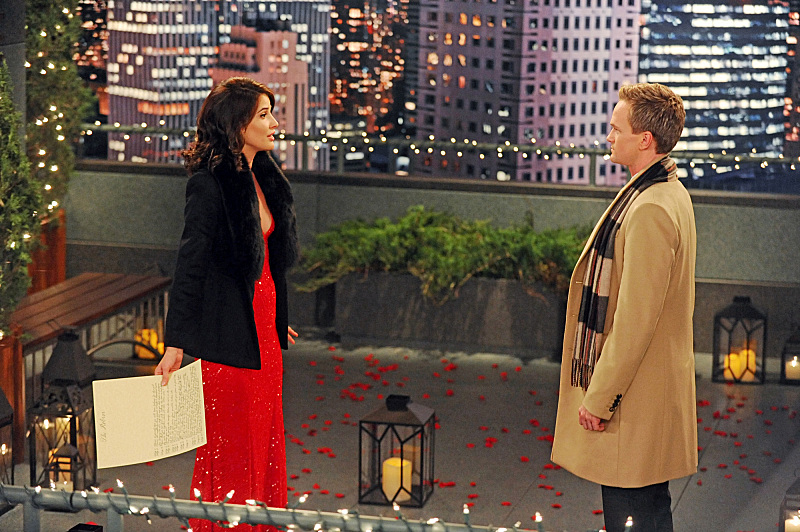 MELHOR. EPISÓDIO. DE. TODO. O. UNIVERSO.
Meu Deus, por onde eu começo? Tanta coisa pra falar! Mas vou começar me desculpando porque acho que esta review ficará meio bagunçada, porque além de serem dois episódios, TEVE A CENA MAIS LINDA DE TODO O UNIVERSO DO MEU OTP but we'll get to that.
A primeira parte focou em duas coisas: a primeira foi que Barney foi "jinxed" e não podia falar nada, e a outra foi sobre a pessoa que cada um jogaria numa cova hipotética. Barney passa o episódio todo tentando fazer com que falem seu nome – o que Ted faz sem querer no final, Ted tenta convencer um antigo professor que ele é um bom arquiteto e Robin demite Patrice. Mas, no final, Ted supera sua raiva e Robin perdoa Patrice. Ah, não vamos esquecer da participação do lindo, maravilhoso, talentoso e fofo do Seth Green como amigo de Lily e Marshall. E o episódio termina com a notícia: Barney vai pedir Patrice em casamento. O QUE?
O segundo episódio tem a inauguração do prédio da GNB, Ted decidindo contar para Robin sobre Barney, e Lily e Marshall na primeira noite longe de Marvin. E, apesar de ter tentado não fazer isso, Ted acaba contando para Robin, que diz que está feliz por ele. Enquanto isso, Lily e Marshall estão bebendo e chorando de saudades do Marvin. Sempre adoro as cenas com Jason e Alyson, eles são ótimos atores e tem uma química muito boa juntos.
Depois de levar Robin ao prédio da WWN, ele convence ela que ela tem que impedir Barney. E lá ela vai, para o lugar preferido dela na cidade, e acha um papel em meio à linda decoração, que diz "The Robin" – que eu vou ter que transcrever aqui, porque é a coisa mais linda do universo :')
1. Admit to yourself you still have feelings for this girl.
2. Choose the completely wrong moment to make a drunken move after hanging out at a strip club... and get shot down on purpose.
3. Agree that you two don't work, locking the door on any future you could have together... which will drive Robin nuts.
5. Find the person who annoys Robin most in the world, and ask for her help. Explain everything to Patrice and hope she agrees to help.
6. Check with your doctor about possible broken ribs.
7. Pretend to be dating Patrice.
8. Wait until Robin inevitably breaks into your place to find the Playbook and show it to Patrice... which you'll monitor via the hidden cameras you have in your apartment.
9. After Patrice finds the Playbook, have your first big fight.
10. Prove your loyalty to Patrice by burning the Playbook, and actually burn it. You don't need it anymore.
11. Because your friends have no boundaries, they'll inevitably have an intervention for Robin which you'll monitor via the hidden cameras you have in Marshall and Lily's apartment.
12. Tell only Ted about your plan to propose to Patrice.
13. Wait and see if Ted tells Robin, and if he does, it means your best bro in the world has let go of Robin and has given you his blessing.
14. Robin arrives at her favorite spot in the city, and finds the secret final page of the Playbook, the last play you'll ever run.
15. Robin realizes she's standing underneath mistletoe.
POR FAVOR ISSO É A COISA MAIS FOFA DE TODO O SEMPRE EU NÃO CONSIGO NEM POR EM PALAVRAS DECENTES E tá, deixa eu me acalmar. Mas, Deus do céu, finalmente em? Finalmente vocês ficaram juntos, SEUS BEBÊS. Porque ô OTP difícil que eu fui escolher viu. Mas agora tá tudo bem, a ordem foi restaurada no universo e tudo é arco-íris. YAAAAAAAAAAAY!